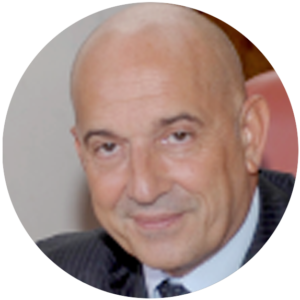 Emanuele Grimaldi
President Confitarma – Italian Shipowners' Association
Managing Director Grimaldi Group
He was born in Naples, Italy, in 1956 and studied at the University of Naples obtaining the Degree in Economics and Commerce taken "summa cum laude" in December 1980.
He has covered various positions within the Grimaldi Group, being currently Chairman of Atlantica di Navigazione Spa, Managing Director of Grimaldi Compagnia di Navigazione and INARME, President and CEO of Finnlines Plc, President of Minoan Lines and Malta Motorways of the Sea and Board Member of ACL.
He's also President of Confitarma (Italian Shipowners' Association) as well as Board Member and Past President of ECSA (European Community Shipowners' Associations).
Established in 1947, the Grimaldi Group is a fully integrated multinational logistics Group specializing in maritime transport of cars, rolling cargo, containers and passengers. It has a modern fleet of over 100 ro/ro multipurpose vessels, pure car carriers and ferries and operates, together with strategic partners, 20 car and container terminals in the Mediterranean Sea, North Europe and West Africa as well as trucking companies. Today the Group operates in the Mediterranean Sea, North Europe, West Africa, North and South America and is the main operator in the Motorways of the Sea in Europe and the Mediterranean. The Grimaldi Group's mission is to provide efficient, reliable, innovative and high quality maritime services for the transport of freight and passengers, following a continuous process of identification of its customers' needs and expectations.